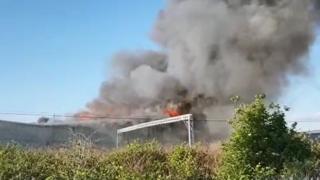 A huge fire has broken out at a warehouse in east London.
Plumes of black smoke could be seen billowing across London from the site of the blaze in Barking.
Nad Nazir, who lives nearby, was out walking when he saw the building engulfed in flames and dialled 999.
About 120 firefighters have been tackling the fire on an industrial estate next to the A13. London Fire Brigade was called to the scene on Alfreds Way just after 18:30 BST.
Mr Nazir, a 36-year-old journalist, was out walking when he spotted what he thought was a small house fire.
He said: "When I arrived there were just a few flames and then all of a sudden it was engulfed and completely set alight."
He said the building was among a cluster of warehouses and he did not know which one it was or what it contained.
London Fire Brigade said the building was a single-storey warehouse.
Twenty fire engines were sent to the scene from Barking, East Ham, Dagenham, Plaistow, Ilford and surrounding fire stations.
London Ambulance Service (LAS) has urged people in the area to keep windows and doors closed because of the large amount of smoke from the blaze.
A spokesman for the LAS said an ambulance crew, incident response officer and hazardous area response team had been dispatched but no-one had been treated at the scene.
The fire service said the cause of the blaze was not known at this stage.